EAZYDIVE is a low pressure full diving kit, allowing short dives down to 10 meters depth
  Introductory price of 
  the new 2020 model: 415 €
  The whole set including 
  compressor and hookah: 915 €
The low-pressure EAZYDIVE scuba diving system can be used in 3 ways : 
1. In scuba diving : The EAZYDIVE tank is inflated at 12 bars by the compressor.
It provides an autonomy of about 5 minutes. 
2. In hookah diving : The diver is permanently supplied by the compressor through a 20 meters long 
air hose. 
It extends the dive time up to 60 minutes. 
You can choose to have the hookah hose that flows either into the tank or directly into the regulator. 
It is the only underwater diving system in the world to allow such possibilities.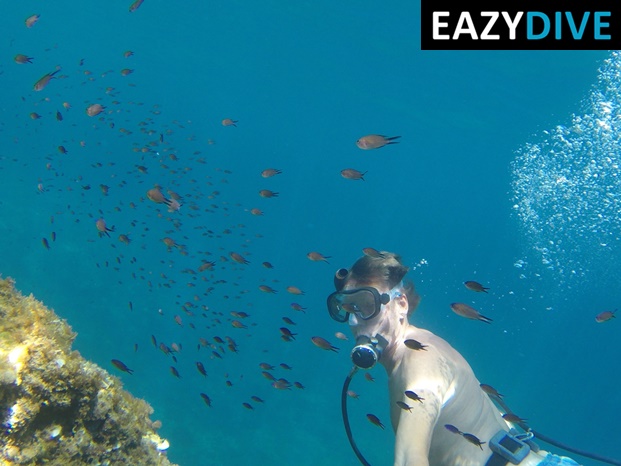 EAZYDIVE has been designed mainly for boaters, but it can also be used for small pleasure or introductory dives, at anchor or from the beach.
AVANTAGES :
It refills with a small compressor for tires on the pods of a battery. A simple bicycle pump may be sufficient! Free unlimited refill, it provides full diving autonomy onboard. It is done in 3minutes, on the 12 V boat or car battery.
| | |
| --- | --- |
| Inflation on board battery | Inflation on a car battery |
| | |
Due to low pressure (<12 bar), it is not subject to periodic inspections or regulatory retesting scuba tanks.
Zero weight in water.
Compact and protected: It comes in a backpack that contains the whole equipment tank, regulator, valve and pressure gauge.
The cheapest dive kit on the market: € 374 (tax free). The whole set including the compresssor and the hookah system : € 832 (tax free).