Introductory price of 
the new 2019 model:
           374 €
The whole set including 
compressor and hookah:
           832 €
EAZYDIVE is a low pressure full diving kit, allowing short dives down to 10 meters depth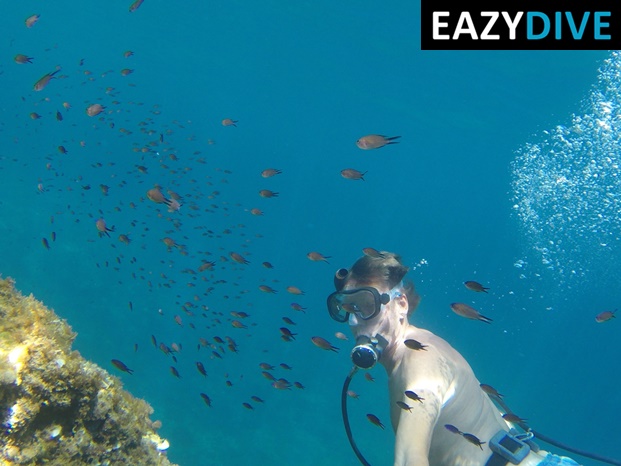 EAZYDIVE has been designed mainly for boaters, but it can also be used for small pleasure or introductory dives, at anchor or from the beach. Ideal equipment for a short introduction to diving (with attendant confirmed!)
AVANTAGES :
It refills with a small compressor for tires on the pods of a battery. A simple bicycle pump may be sufficient! Free unlimited refill, it provides full diving autonomy onboard. It is done in 3minutes, on the 12 V boat or car battery.
| | |
| --- | --- |
| Inflation on board battery | Inflation on a car battery |
| | |
Due to low pressure (<10 bar), it is not subject to periodic inspections or regulatory retesting scuba tanks.
Zero weight in water.
It comes in a backpack that contains both the tank, the regulator, valve and pressure gauge.
The cheapest dive kit on the market: € 374 (tax free). The whole set including the compresssor and the hookah system : € 832 (tax free).
Approval
:
EAZYDIVE
is tested at 27 bars, almost three times its normal operating pressure. It meets the requirements of the European directive EN 250 and has the marking


Storytelling
:
EAZYDIVE was designed by form
er commando Hubert combat swimmers, each totaling more than 5 000 hours of diving, with all types of diving devices, in all conditions.
Away from the constraints of their former profession, they want to demystify and facilitate diving.
Objective : To enable as many people as possible to enjoy small friendly dives, in an easy and economical way.